November 2021
The Collection 1990 To 2020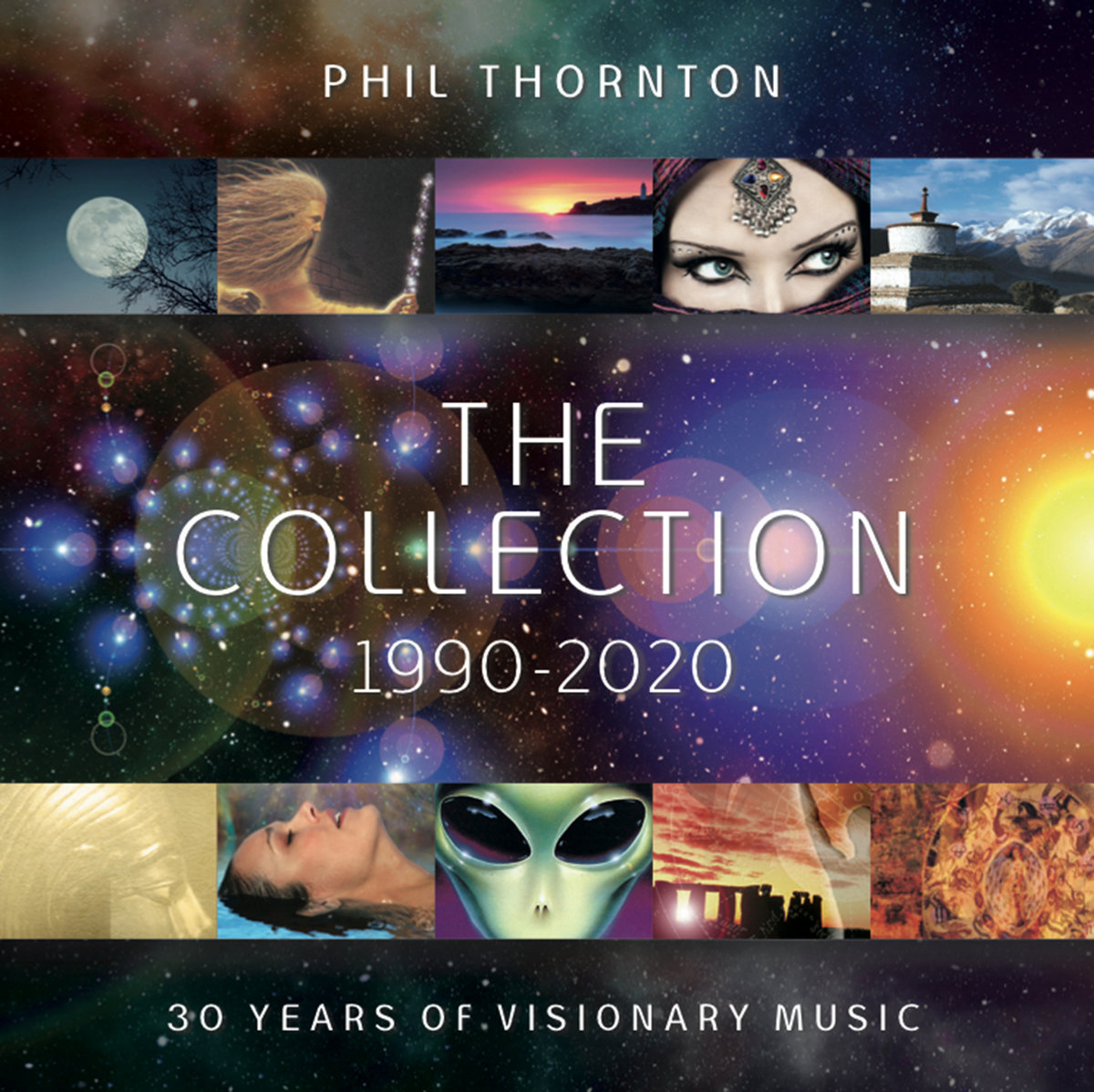 For the past 30 years I have been travelling the World, collaborating with performers and Artists at home and on location resulting in a wide variety of material. This album showcases a significant aspect of New World Music Ltd's part in that journey
Buy Digital Album £7 or Limited Edition Compact Disc £10 from bandcamp
February 2020
RIP Hossam Ramzy (1953 - 2019)
I was recently asked to write an article for 'MOSAIC' magazine to share my memories of Hossam
Please
click here
if you would like to see my contribution.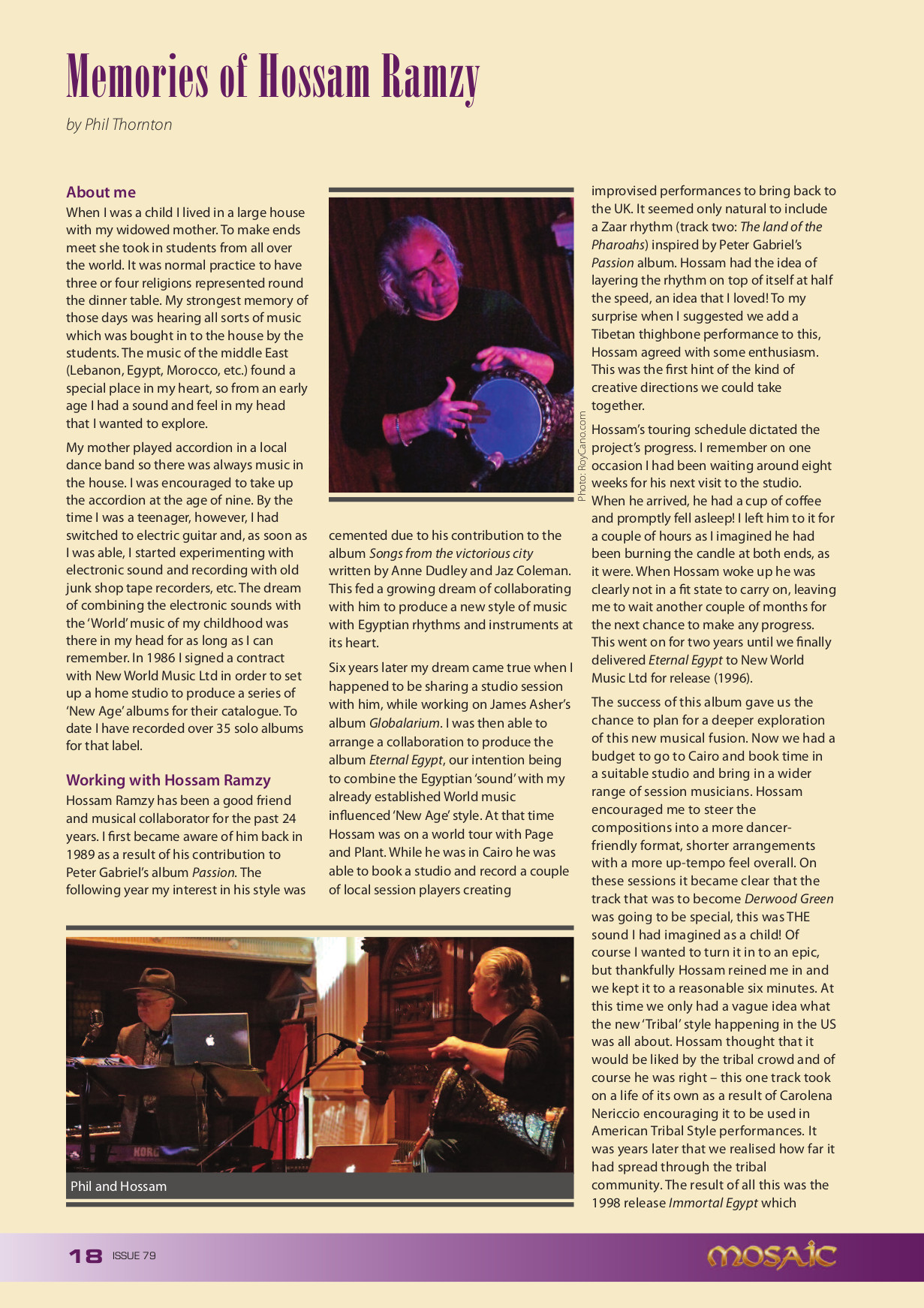 September 2018
Award winning multi - instrumentalist and electronic music pioneer, Phil Thornton, made a rare solo public performance at the Opus Theatre earlier this year.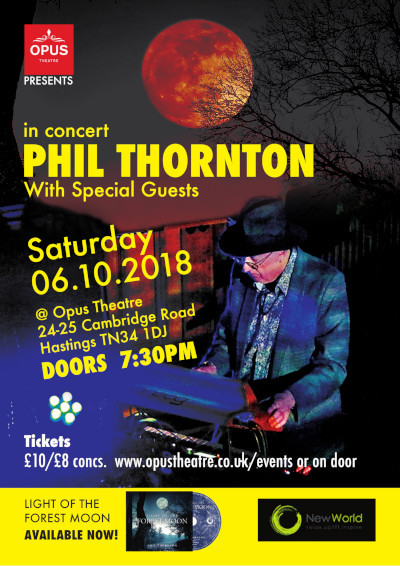 The success of this concert inspired Phil to complete a project that had been in the pipeline for the last 3 years. The result is Phil's latest album, 'Light Of The Forest Moon', a musical journey deep into the heart of the forest, from which vantage point ,surrounded by the tranquility of nature, we are encouraged to explore the ever changing night sky, to reflect on our very existence.
The instrumentation puts the distinctive vintage sound of the Moog synthesiser centre stage with
support from traditional instruments such as violin, recorder, flute, didgeridoo and electric guitar.
With vocal performances from Romanian opera singer Albert Buga, vocal improvisation from Lilith and Mei-Ling Loft (a.k.a Myristica) on Piano.
Phil has written and produced over 50 solo albums to date, as well as many best selling collaborations, with combined sales of over two million albums worldwide. An acclaimed master of the synthesiser, a highly talented multi instrumentalist and an Innovative producer, his adventurous and seductive compositions ring out with a tremendous 'journey' quality.
Phil has travelled the world, collaborating with performers and musicians on location, resulting in a wide variety of material including the albums - Enchanted Egypt, Rhythm of the Rainforest, Capoira, Native American Chants, Visions of Tibet, Nexus Tribal, Rejuvenation, Pure Tibetan Bowls, and most recently Seven Rings.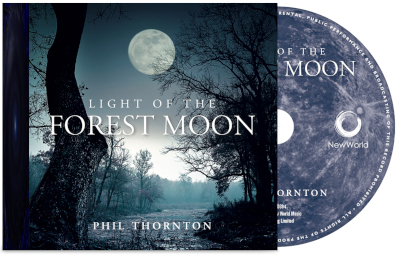 The album 'Light Of The Forest Moon' is available now on New World Music,
newworldmusic.com/uk/shop/cd394-light-of-the-forest-moon
In celebration of this new release Phil and special guests will be performing at the Opus Theatre on
Saturday October 6th at 7:30pm.
Tickets available online from The Opus Theatre web site -
opustheatre.co.uk/events
or at the door on the night
This album takes you on a journey deep to the heart of the forest, and from this vantage point, surrounded by the tranquillity of nature, encourages you to explore the ever changing night sky. Two tracks feature lyrics, sung by Romanian opera singer Albert Buga. The first is sung from the point of view of 'The Brigand' a Romanian 'Robin Hood' like character, and relates strongly to nature and the forest. The second, a take on a traditional Romanian folk song, reflects on the passing of time. The instrumentation puts the distinctive vintage sound of the Moog synthesiser centre stage with support from traditional instruments such as violin, recorder, flute, didgeridoo and electric guitar. The album features, along with Albert Buga, guest performances from Lilith - vocal improvisation and Mei-Ling Loft (a.k.a Myristica) on Piano.
---
January 2018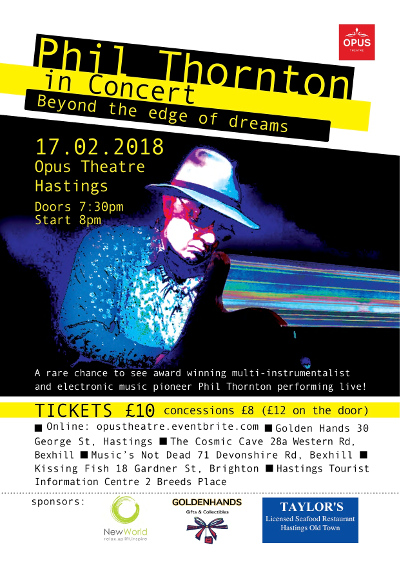 BEYOND THE EDGE OF DREAMS - Phil Thornton in concert
17 February at 19:30–22:30
Opus Theatre
, Cambridge Road, TN34 1HG Hastings, East Sussex
Tickets £8-£10
eventbrite.co.uk
https://www.facebook.com/events/313191042529270/
---
January 2017
New album out now!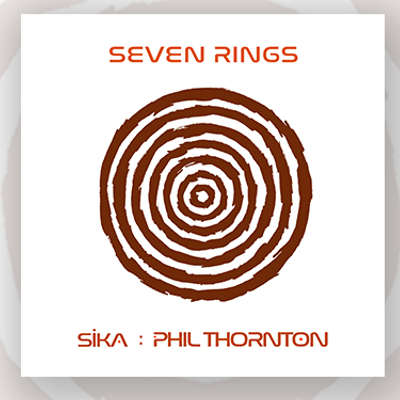 A collaboration with Sika Deer (New Zealand based didgeridoo and flute player). An Instrumental album featuring the didjeridoo, an ancient instrument from Australia, Native Flutes, Ocarina's, Bullroarer and rattles etc. Blended with Analog Synthesisers ( Moog, Korg, Yamaha etc.) Electribe grooveboxes and FX !!

This album is a deep exploration of Ancient and Modern instruments and sounds, seamlessly fused in to a sonic journey that begins with the earthy sound of the didgeridoo creating a trance like atmosphere and ends with a joyous uptempo dance vibe!

click here to buy the CD or full quality download: https://philthornton.bandcamp.com/album/seven-rings
NOVEMBER 2016
ALL WE HAVE IS NOW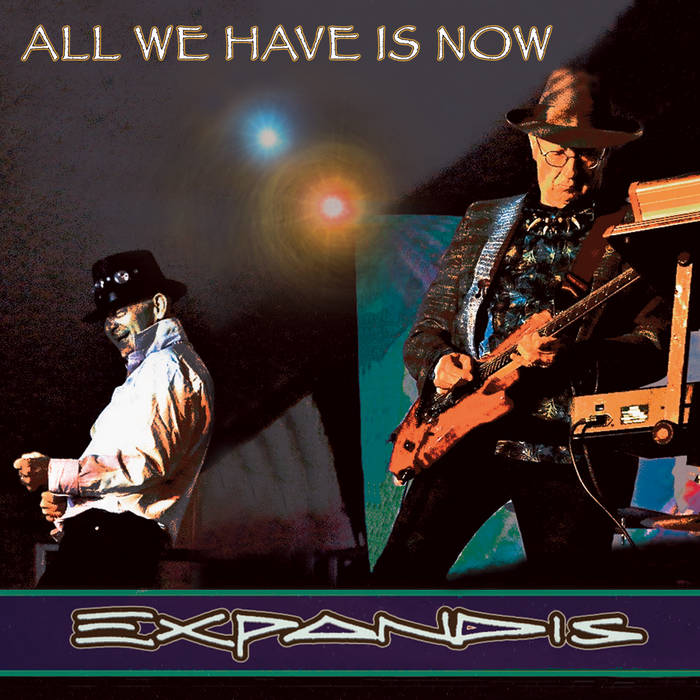 This album is the result of the recent 3 year 'Expandis' revival !! It contains new material as well as new versions of old favourites. Originally formed in the early 80's with inspiration from punk / new wave / experimental bands such as the brilliant New York innovators 'Suicide' and the more mainstream 'Talking Heads' as well as the obvious 'Kraftwerk', 'D.A.F.' and 'Yellow Magic Orchestra' connection.

This recent 'revival' also draws influences from Pink Floyd through to Leftfield, Nine inch Nails and beyond ! A high energy live show with no weak links coupled with a desire to break down some boundaries with the lyrics and music has always been the bands driving force, This new incarnation has been no exception!



THE COMPLETE HOME EXPANDIS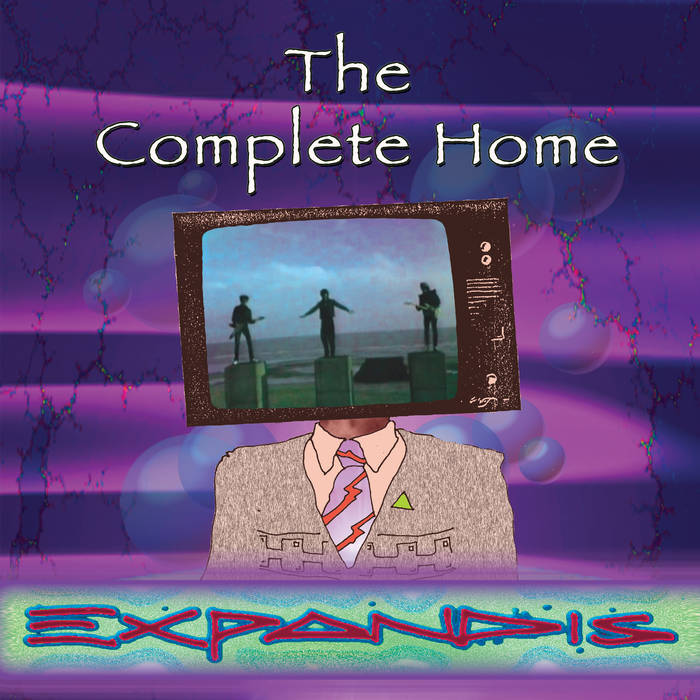 The bands 2nd album - recorded at home between 1981 and 1982 and sold at gigs on cassette.

This new digital version has been cleaned and remastered !!



NEWS - OCTOBER 2016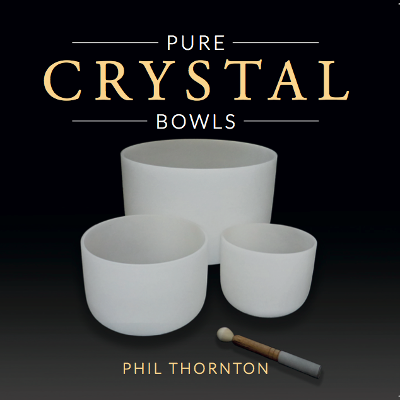 Following on from the success of 'Pure Tibetan Bowls', The sister album 'Pure Crystal Bowls' is now released!
"The pure harmonic sounds created when Crystal bowls are struck or rubbed with a beater are unique.
On this CD they have been carefully recorded to create a musical journey which takes its inspiration from the properties of various Gem Stones associated with the 7 Chakras. (The word chakra is Sanskrit for "wheel" or "disc.")
Each track represents one of the Chakras, with its own distinct character, frequency and colour which relates to a unique aspect of our being.
COMING SOON
A new album collaboration with Sika Deer ( Didgeridoo, Flutes and percussion ) is in the final stages of production and should be available by November !
OTHER NEWS
DREAMING OF CAIRO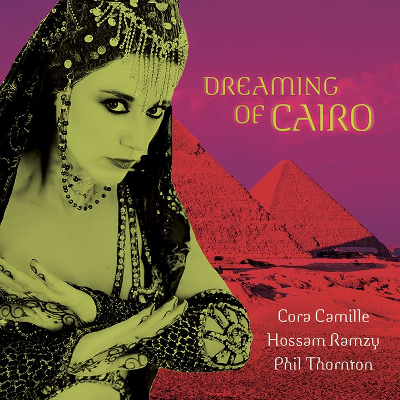 A collaboration with myself, Hossam Ramzy and Cora Camille
Cora Camille announces her album release Dreaming of Cairo in which she collaborated with Hossam Ramzy, Egypt's Ambassador of Rhythm and the worlds leading name in Egyptian dance music, and with Phil Thornton from the United Kingdom who is recognized worldwide with over 2 million in sales for his solo ambient albums.
The album also features guest musicians from Cairo, Egypt performing solos intertwined into Camilles unique twist of fusing traditional middle eastern music with club-inspired American electronic music.
This is the culmination of years of work recorded in studios in St. Louis, Cairo, and Ramzys and Thorntons studios in the United Kingdom.
SKY GIRL
Two French DJs evoke heartbreak and desolation in a compilation of little-heard gems. Kym Ghosts and I made the track 'feeling sheepish' 36 years ago which is included on this new compilation.
Apparently we sounded like The Young Marble Giants !!
Cool ! I can live with that !!
Feb 2016
40th solo album available now!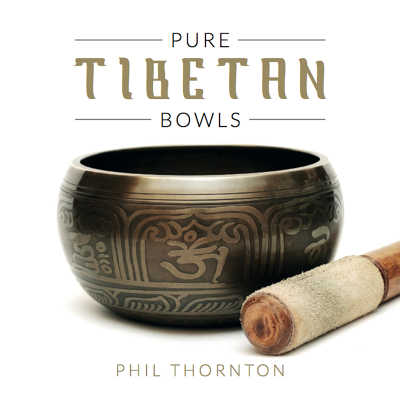 The rich blend of harmonic overtones created when Tibetan bowls are struck with various beaters was carefully recorded and gathered together into a musical journey which takes its inspiration from traditional Buddhist teachings. Each track represents a stage in the 'eightfold path' to enlightenment through meditational practice.
The Jhanas are eight altered states of consciousness which can arise during periods of strong concentration. The word Jhana is from the 'Pali' language and means meditation.
In addition to their usage for meditation, Tibetan singing bowls are also used in many Holistic therapy treatments including deep relaxation, chakra balancing, Reiki and stress reduction.
philthornton.bandcamp.com/album/pure-tibetan-bowls
Nov 2015
This year has seen the re-release of 2 important albums from my past as well as a host of new projects underway!
The Brigand's song (‪Cântec haiducesc‬)
Featuring Albert Buga on vocals this is a traditional Romanian folk song which will form the heart of my new album project - (working title 'Myristica and the mothership')
The Brigand's song is available now as a FREE download ! ( pay if you like !! )
philthornton.bandcamp.com/track/the-brigands-song-c-ntec-haiducesc
Here is a little insight on the meaning of the Lyrics -
"Arde-mi-te-ai" is an exclamation that cannot be translated exactly, it's somewhat melancolical. The singer is addressing himself to the woods, speaking to them. "Ardemiteai, codru des" ......exclamation - thick forest, you can see, it's been decided, that I would not find my way out of you.." That's the first verse. The second verse says c-am intrat copil blajin, s-Acuma-s mosneag batran. "I went inside as a young boy, and now, now I am an old man.." It talks about the love for the forest.
REJUVENATION : beyond the edge of dreams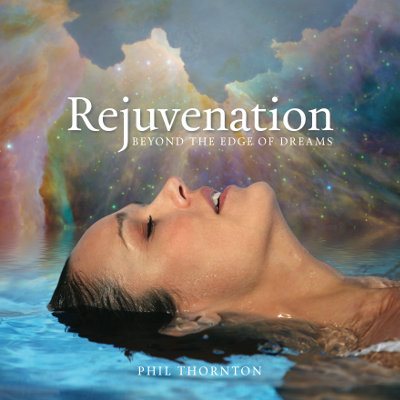 This album takes up the musical themes and soundscapes from my first album for NWM Ltd 'Edge of Dreams' released back in 1986.
'Rejuvenation' takes a deeper exploration in to the world beyond the edge of dreams !
Soothing harps, a haunting Oboe and gentle textural soundscapes combine to create a melodic tapestry which takes you on a constantly evolving musical journey which will leave you rejuvenated and refreshed.
http://www.amazon.co.uk/Rejuvination-Beyond-The-Edge-Dreams/dp/B00QG7VXUC
NEXUS TRIBAL is now available via New World Music Ltd
They are doing a major promotion of the album in France which will feature new artwork and a new title !! - the music remains the same of course but this special 'French' release will be called 'TRIBALE'
INITIATION has been re released by New World Music Ltd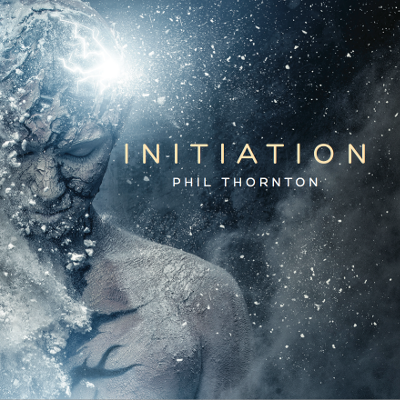 The music as been digitally remastered creating a very 'transparent' and clear new sound and the album features new artwork !
Original sleeve notes by Carmen Willcox ( released in 1990 )
Authentic and powerful, Initiation weaves the haunting voice of whales and birds into the strong, mellow dream world of the Didgeridoo.
From the fascinating and earthy sounds of this most basic of natural instruments to the superb complexity of modern keyboards, we are enmeshed in a world of imagination. Time and daily concepts lose themselves as this beguiling music works its spell - enchanting, captivating and transforming the listener.
This is a genuinely unforgettable venture deep into the realm of a spiritual initiation.
https://philthornton.bandcamp.com/album/initiation
JAN 2014
Happy new year !
2013 saw the release of my new album 'Visions of Tibet' the long awaited follow up to 'Tibetan Meditation' released in 2003!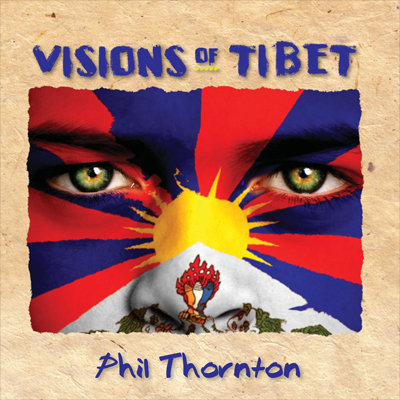 The second half of 2013 was a very busy time with many new projects started including a new album inspired by my first solo release with New World Music Ltd and a new collaboration with 'Myristica'.
Work continues with the 'Precisionsound' sample sets - the latest addition, a collection of 500+ analog SFX samples will be ready for release early in the new year.
RICH OM and THE MOTHERSHIP a new collaboration with Rich Om from the Psychedelic Warlords. 2 tracks have already been released and can be found on my 'Bandcamp' page -
http://philthornton.bandcamp.com/track/logos-unbound
http://philthornton.bandcamp.com/track/expandibubble-dub
The EXPANDIS album is coming together alongside 'expandizine' video blogs on youtube -
Here is a sneak preview of one of the new 'Expandis' tracks !
https://soundcloud.com/expandis-1/top-of-the-hill
I also found myself involved in reviving 'STALLION' a Progressive rock group I was part of back in the early 70's!! As well as re releasing our first album 'The Hard Life' we have also played a one off gig which has resulted in some great live recordings ....
Please visit my 'soundcloud' page for a sneak preview !
https://soundcloud.com/prog-o-tone/fresh-out-of-borstal
June 2013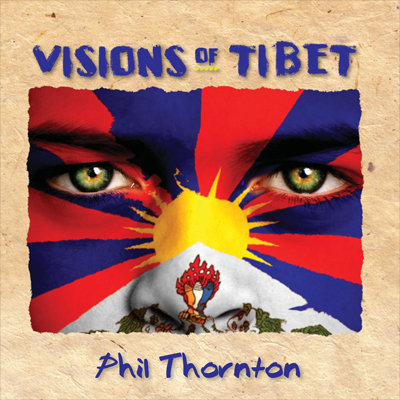 The long awaited follow up to Tibetan Meditation is due out within the next few weeks.

Inspired by the very distinctive culture and music of Tibet. The pure sounds of singing bowls and temple bells are joined by the raw power of the Dong - Chen (Tibetan Horn).

Powerful rhythms, chanting monks and a rich tapestry of ethnic and electronic sounds take you on a journey deep into the heart of Tibet.









May 2013
Myristica's new album 'Little Oak' will be released on the 1st of May.
The Album was co-produced with Phil Thornton and features guest performances from Phil on Recorder, Guitar and Accordion.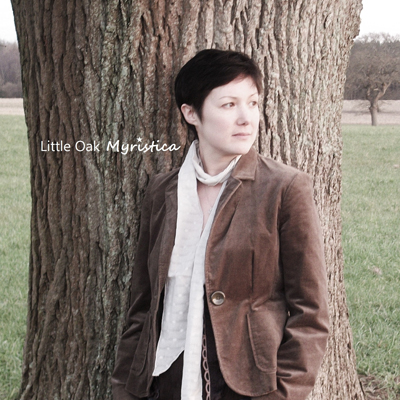 Expandis Live
Big thanks to all who came to the RISE launch party. Next gig Expandis are supporting the Psychedelic Warlords on the 17th May at The Carlisle, Hastings.


March 2013
RISE - release date Sunday 31st March ( Easter Sunday )!


We will be having a launch party on the day at the Carlisle pub on Hastings seafront - its FREE entry to all and will include an Expandis live performance !

www.thecarlislehastings.com





December 2012
Seasonal Bundle Nexus Tribal & Tribal Spirit available together for a limited period.


£10 for Nexus Tribal & Tribal Spirit CD's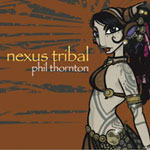 SOLD OUT



Nexus Tribal features the song 'BAY CITY SHIMMY (fat chance mix)' which was used in the ATS Flash Mob World wide project earlier this year.

November 2012
Analog Performer Uptempo & Downtempo - New toolkits for adding that special spiky blip sound to your music
Both sets feature the unique analog sounds of the Korg MS-20 and Moog Source synthesisers. Using Phil's personal collection of vintage gear, the library is a sonic exploration of the MS-20's dual filter, through intricate rhythms and live performances. Driven by a Korg SQ-10 analog sequencer and MS- 50 modular expander, the sound of the MS-20 is complemented by powerful Moog tones, Korg Electribe drum machines, and a Korg Wavestation synthesiser.


Analog Performer 1: Uptempo
10 suites of multitrack loops, between 8-16 bars, at tempos from 90-135bpm. It contains:

123 ACID wav format loops (402MB total)
Sliced versions of 102 loops in Apple Loops, Stylus RMX, and REX formats
40 demonstration mixes/music beds in ACID wav format (225MB total)
44.1kHz/24-bit audio throughout

Click here to listen to sample tracks & order online
Analog Performer 2: Downtempo
10 suites of eight-bar multitrack loops, at tempos from 65-90bpm. It contains:

140 ACID wav format loops (543MB total)
Sliced versions of 111 loops in Apple Loops, Stylus RMX, and REX formats
40 demonstration mixes/music beds in ACID wav format (257MB total)
44.1kHz/24-bit audio throughout

Click here to listen to sample tracks & order online
October 2012
ATS Flash Mob & Expandis 'Flying' album


ATS Flash Mob World Wide

A Global Phenomenon Dancing in a language that crosses all boarders.

The song - Bay City Shimmy
The place - Somewhere near you
The time - Saturday October 13th
The dance - ATS improvisation

http://www.facebook.com/events/366161750129508/
August 2012
Special Limited Edition DVD - A Global Voyage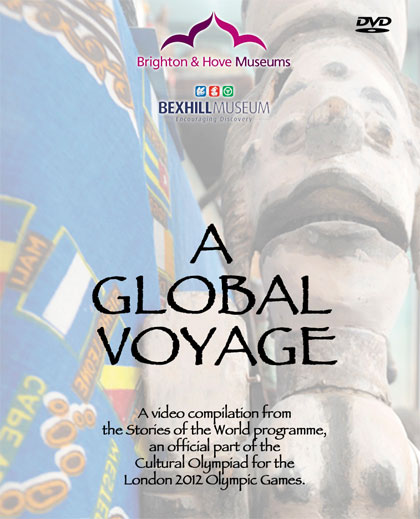 A video compilation from the Stories of the World programme, an official part of the Cultural Olympiad for the London 2012 Olympic Games.
Part of the global gathering exhibition at Bexhill Museum and Brighton and Hove Museum.

50% of the profits are being donated to Bexhill Museum from each DVD.

Featured videos

1 - SHADOWS OF THE ANCIENT EMPIRE
2 - QANUN TAQSIM View on YouTube
3 - NAY ON THE NILE
4 - SIX DAUGHTERS OF THE SUN
5 - YAMMA JATTA
6 - KARIMI NYAM
7 - AWAKENING SPIRIT
8 - MILES AWAY View on YouTube





Buy online here £8 + P&P
June 2012
Music Update!


The "Miles away' youtube video has now been watched 100 000+ well done to Blue dot Music.



Rare video footage shot at the Shoton Festival, Drepung Monastery, Lhasa, Tibet August 2005. A hugh Thangka painting of the Buddha is unfurled on the mountainside as thousands of pilgrims and locals partake of the festivites .This is the first time this rare video footage has been seen.

The music is by our much acclaimed composer Phil Thornton and is taken from his album 'Eastern Moments'. Music samples from the album can be hear on the blue dot website: http://www.bluedotmusic.net

Bay city Shimmy - ( Beginners guide to bellydance version) available on iTunes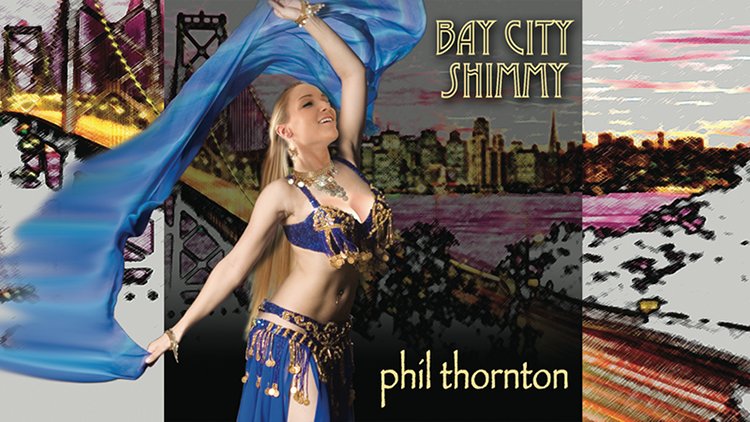 Expandis - will be performing at 'The big event' in Brighton Sat 9th June
March 2012
New Music !


'Rock the Tabla' and 'Bellydance For Fitness And Fun' now available directly from the shop. Click here to order.

At last I have made time to get in the studio and start working on new music!
Projects now under way include a new 'Egypt' album in collaboration with Hossam Ramzy, the long awaited follow up to 'Nexus Tribal' and brand new 'Expandis' songs!

Other news - ARC Ltd will soon be re-releasing Dalinda's album 'Turquoise' this new version will be titled 'Songs from Libya' and will feature 2 new remixes one by 'Mandragora' and the other by 'Earthdance'.

In the meantime here are a couple more free downloads.


Fire Queen - free download

Title track from the album released by New World Music in 1991
(Fire Queen is available as a download on iTunes etc.)
Spindizzy- free download

This is a short 'taster' version from the fothcoming Expandis album 'Flying' originally released in 1983!!
Featuring lots of multilayered Moog synthesiser.
January 2012
Happy new year!


I've posted some new free downloads to celebrate the new year