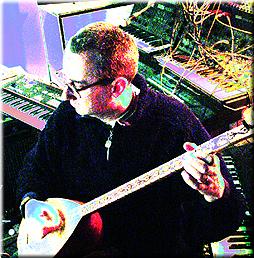 A keen sorcerer of sonic visions, Phil Thornton has written and produced over 30 solo albums - with world wide sales of over 2 million - since beginning his musical odyssey in the early '80s with the group 'Expandis' (a unique artists collective best known for their innovative use of electronic sound).
Phil's first two ambient albums 'Cloud Sculpting' and 'Edge Of Dreams' both topped the 'New Musical Express' New Age chart and are now widely acclaimed as classics of their genre.
Previously commissioned to collaborate on the concept album 'First Quest' for the highly successful game 'Dungeons & Dragons' and to compose music for an esoteric art event at St. James's in Piccadilly, London, widely regarded as an early turning point in the development of 'new age' ideas.
His arrangements often feature a mix of ethnic and modern instruments, which has led him into collaborations with leading 'world' musicians to create a diverse and hypnotic blend of atmospheric compositions. Phil's 1999 collaboration with Hossam Ramzy, 'Immortal Egypt', won 1st place in the annual 'New Age Voice' magazine awards in the USA.
As a live performer Phil has appeared on regional and national television in England, Europe and South America, The Findhorn Foundations Universal Hall in Scotland, the Purcell Rooms on the South Bank and St. James's Church in Piccadilly, London. Seminars in Rome, Amsterdam, Paris, Guadalajara and Sao Paulo and concert tours of Brazil and Mexico as well as many 'Greenpeace' and 'Friends of The Earth' festivals in Great Britain.
He has also given many interviews/performances for radio shows world wide including 'echoes', 'K.T.W.V.' and 'Hearts of Space' in the U.S.A.