Living like this... this album was created in 2007 to celebrate a cross section of the 'expandis' back catalogue online. It features tracks recorded in the bands home studio the 'expandibubble' as well as recordings from Jacobs and Alaska studios during the period from January 1982 though to early 1984.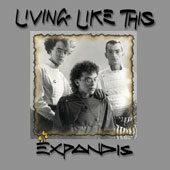 Album Details
This is the first time any of this music has been available on CD
(everything on the CD has been remastered and sounds great !!!)
It is a limited addition collectors item only available direct from the band !!
Living Like This
Mystic Man (21st Century Mix)
Paperwork Panic
I'm Not Waving, I'm Drowning (21st Century Mix)
Ain't No Superman
Never Call Twice
My Love (Jacobs Mix)
Help Me I'm Dreaming
Never Be Sure
The Secret
NeverZone
Killing Time
I Am the Tadpole
Ego Massage
Teach Me Guide Me (7/8 Version)
Reasonable Behaviour
Boy from Babylon
Master of the Universe