This was the second Expandis album, consisting mainly of live tracks with a few 'studio' specials thrown in!
A commercial recording of track 5 became the bands first single on Elton John's label 'Rocket Records'.
Track 11 was sampled recently for use on the 'Alien Encounter' album.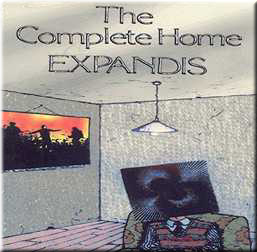 Album Details
Released 1982 by Expandisongs.
Released in 1983 on cassette to sell at gigs, the master tapes were lost around 1985 but have recently been found.
Digitally re-mastered in 2000.
Licensed to The Product Exchange (for sound samples and more info go to the links page).
Teach Me, Guide Me (8:56)
- Edge of a daydream -
My Love (3:44)
Still Can't See Me (2:47)
Framing Myself (2:06)
Mystic Man (2:10)
I See The Boy (3:14)
Peace Of Mind (2:56)
Fascination (2:29)
Speak 'n' Spell (1:36)
Last White Grave (3:22)
Another Blue Light (2:48)
All Of Me (2:20)
Last Of The Flesh Dealers (2:21)
Foreign Place (1:17)
Heartbreak Hotel (4:09)
Laughing Wolf Meets The Mother Ship (5:03)
I Don't Mind The Noize (4:24)
Research And Development (3:58)