My first album for New World, developed from a 5 minute demo at the 'Enid' studio which at that time was based a few miles from Halesworth in Suffolk.
I had first met the 'Enid' a few years earlier through my involvement with the band 'Minotaur' who regularly supported them on tour. Since that time I had wanted to record in their studio as they were by far the most advanced recording facility for symphonic / electronic music in the country.
The Enid's lead guitarist Stephen Stewart had by that time developed into a brilliant producer, so when New World gave me a budget to record an album for them it was a dream come true.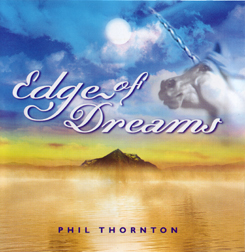 Album Details
re-released 2006 by New World Music
original release 1986 by New World Music.
Inside (19:00)
Outside (20:05)
Produced by Phil Thornton and Stephen Stewart.
Engineered and programmed by Stephen Stewart.
Recorded at 'The Lodge', Suffolk.