My first solo album!
More of a sound track looking for a film than a 'new age' album. It began life as an album commission from Filmtrax.
The company was aware of my experiments with electronics through various Expandis related projects, notably 'The First Quest' a double album of music to go with the role playing game 'Dungeons and Dragons' and they were keen to find the right way of presenting this type of material.
The album forms part of a series called 'Colors' which featured other artists such as Denis Haines (ex Tubeway army), G.P. Hall, Peter and Clive Sarstedt and Steve Parsons.
I was given the task of representing the colour blue. The title track was inspired by the short story 'The Cloud Sculptors' by J.G. Ballard, this theme was then taken up by all the remaining tracks, with the exception of 'Goldfish Don't Whistle' the original version of which appeared on the Expandis album 'I'm Not Waving, I'm Drowning'.
The album was written and recorded at home on hired equipment, then taken up to the Filmtrax studio in London where Simon Heyworth worked his magic finishing off the recording and mixing.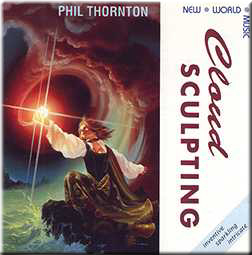 Album Details
Released 1986 in the USA and UK.
Released 1987 in Japan.
Re-released 1992 by New World Company, re-mastered with a new running order:
The Cloud Sculptors -
a and b (9:03)
Solid Air (6:01)
Rising Thermal (6:04)
Empty Canvas Over the Sea (4:57)
Castles in the Air (5:24)
As Above so Below (4:58)
Goldfish Don't Whistle (4:48)
Produced and mixed with Simon Heyworth (co-producer of 'Tubular Bells' by Mike Oldfield.)