A turning point.
Ever since first coming into contact with the Didgeridoo around 1985, (at my first solo live performance) I had wanted to record an album like this!
The chance came when Steve turned up at a Mandragora gig in Brighton, the timing was perfect as New World were becoming more open to 'world music' influences, and I had by then established a good enough reputation to try something new.
This album marks a definite turning point in my music, leading to some great gigs and exciting new musical directions.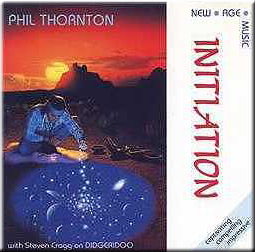 Album Details
Released 1990 by New World Music
Instrumentation
Phil Thornton - Recorders, e-bow guitar, sticks, tibetan bells, animal sounds and synthesiser.
Steven Cragg - Didgeridoo, harmonic chanting, talking drum, sticks, hand bells and animal sounds.
Composed by Phil Thornton and Steven Cragg.
Produced, engineered and programmed by Phil Thornton.