Inspired by the work I was doing at that time with Asha Quinn, developing his music into a clear, calming style. This album contains one of my favourite tracks - 'Timeless Passion'.
Natural Magic was released at the same time as 'Initiation' and was overshadowed by that albums success, consequently it never made it to compact disc. In 1997 I gave it a fresh look, ending up with a very atmospheric 'continuous program' album in my 'reflective' tradition.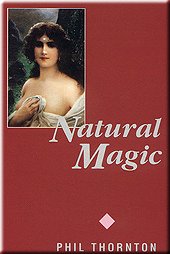 Album Details
Released by New World Music in 1990
Re-mixed and re-mastered in 1997 (currently waiting for a release date).
Flight Of The Heart
Timeless Passion
Soul Enchantment
Natural Magic
Composed, performed and produced by Phil Thornton with Ian Barnet on 6 and 12 string guitars.