Tribal Spirit...a journey ...music created especially for Tribal Style Belly Dance!

For several years we have been inspired by an intimate collaboration with Mark & Ling Shien Bell of Helm. They expressed interest about American Tribal Style Belly Dance (ATSTM) & what it was that FatChanceBelly- Dance was about. The result was three custom-made albums: Tribal Dance Tribal Drums, Itneen & Spice Box plus live shows around the Bay Area and beyond. All fantastic mixes of both traditional & original arrangements in the signature Helm acoustic style...life was great.
Then a few years ago, I met Phil Thornton in England. We were inspired by Derwood Green from Immortal Egypt. This guy gets us! After collaborating via email he debuted Bay City Shimmy-FatChance Mix on the Nexus Tribal CD. He even arranged to present with us at the Majma Festival in Glastonbury...life was sweeter.
It occurred to me on that trip, it would be great to bring together Helm & Phil in collaboration. With Helm's expertise in acoustic, folkloric music & Phil's distinctive world fusion (look for a few Nexus remixes!), we could create something really unique to celebrate our Tribal Spirit. It is my hope that dancers of all kinds will enjoy this spirited mix of music created especially for Tribal Style.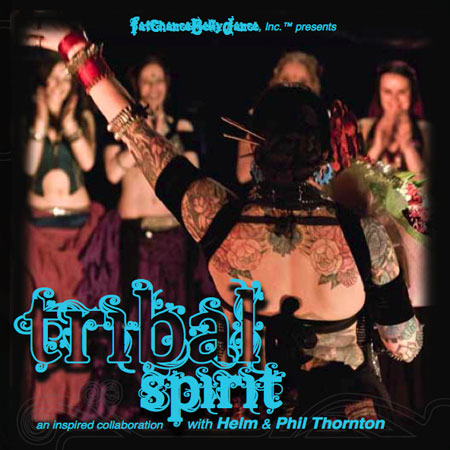 Album Details
Released 2011 by FatChanceBellyDance, Inc.
Timeless Passion (9:38 )
Desert Dervish trad. Rajasthan (2:06)
Lovar Jivera trad. Rajasthan (3:40)
Fireflies/ Sandansko trad. Bulgaria (3:14)
F'il Waha (Roman Style) E. Bell (4:18)
Kako Kolan trad. Serbia (3:01)
Dive Nakela trad.Kosovo Rom (3:18)
Le Rosier Blanc trad. France (4:58)
'Azara' l'Akhdar trad. Egypt (3:21)
Seventh Void E. Bell/M. Bell/P. Thornton (4:29)
Sunrise over TriBeCa (FatChance mix) P. Thornton (4.45)
Sella Fina E. Bell/M. Bell/P. Thornton trad. Syria (4:24)
Raqs Rhodope (FatChance mix) P. Thornton trad. Bulgaria (5:03)
Lashir Spirit trad. Yemen. P. Thornton's Helm track remix (4:48)
Tracks 1-9 arranged by Helm Track
11 arranged by Phil Thornton & Helm
Tracks 10,12,13 arranged by Phil Thornton