Hastings...is a town with more that it's fair share of great musicians, despite the fact this area was something of a musical backwater back in the early 70's, when the musical landscape was dominated by 'covers' bands and most original music relied heavily on 'jamming'.
Steve Demetri, Tony Bridger and Tich Turner formed Stallion in 1972 as a reaction to this state of affairs, with new music and a strong 'theatrical' show top of the agenda. They completed the line up with Steve Kinch on bass - who later went on to play with Hazel O'Connor before joining Manfred Mann's Earth Band, where he has been ever since. He was replaced by Roger Carey who stayed with the band for a few months while they looked for a permanent replacement.
At the time, Steve D was being influenced by early Genesis, King Crimson, etc. as well as Billy Cobham and Frank Zappa. Tony had developed his guitar style from his love of musicians like Rory Gallagher and Jimi Hendrix, whilst Tich had come from a background of R & B, listening to everything from Little Feat to Marvin Gaye.
This early line up produced a tight cohesive sound. From day one the set showcased Tich's compositions with powerful Dynamic arrangements, leading their audience on extended musical Journeys. Steve's penchant for Peter Gabriel's theatrical performances with Genesis inspired Tich to develop a stage persona whereby instrumental sections could be acted out visually, with Tich sometimes wearing a full skeleton suit with face paint - surprisingly effective under U.V. light. These manic performances were in a similar spirit to Arthur Brown's 'God of Hellfire'. Audiences were sucked in to the bands world in a slightly scary but fun way.
First contact...in 1973 the band entered the Melody Maker rock contest, which is where I first saw them. I had just left school and was desperately looking for musicians willing and able to help me realise all the music floating around in my head. My eureka moment came when I marched into their dressing room after the gig and announced myself as their new 'whatever they needed' and "by the way I've got some ideas..." They were intrigued by what I might have to offer but they were not looking for another guitarist!
The idea of bringing keyboards into the line up had already been put forward, so they were a bit disappointed when I admitted I had no experience with organ or Piano - it only got worse when I revealed my only instruments to be an accordion and a Korg 700 synth!
Anyway, we all agreed that the music was crying out for a Mellotron, so a few weeks later I got hold of a string synth and put it through my guitar amp - which made the most incredibly thick wall of sound not a million miles away from the Mellotron. This worked a treat - and they were even up for a bit of the old synth!
The band had already planned a recording session at a 24 track studio in Worthing so within days of joining the band I was thrown in at the deep end recording the bands first single 'Skinny kid' and the b side 'In the wake of the Cobra' released by the 'Flyright' label early in 1975 the single was supported by a period of constant gigging up and down the country. Roger Carey was keen to move on and was replaced by Phil Gill, a local guitarist who switched to bass in order to complete the line up.
For a while this line up worked well, but as we wrote more songs together, the cracks began to appear with my desire to experiment with all the aspects of the show and my relative lack of experience as a performer pulling me into a downward spiral. Luckily for me, Steve D had faith in my ideas and suggested we start again with a new line up.
The New Stallion....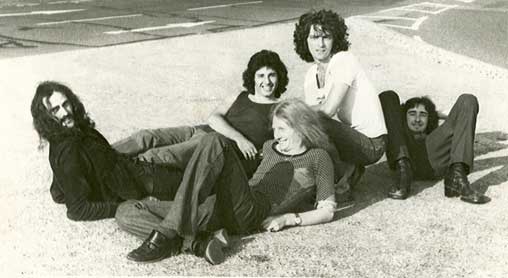 At just the right time, John Wilde came along with a new vision of how the music could be developed. John was well known in the area for his exciting stage performances with various local rock groups; what we had not realised was that his art school background had primed him for a much more collaborative and experimental approach to the song writing style we were moving towards.
By now, Tony Bridger felt the music was moving too far from the rock and blues he felt comfortable with. We were all sad to see him go, but as is the way of these things the door was opened for a more open-ended approach to the music.
Steve introduced us to John Petri who's family had moved to Hastings from the same village in Cyprus as the Demetri family. John's knowledge of the Bouzouki and Greek music combined with his love of guitarists such as Carlos Santana and Jimi Hendrix gave him a unique style that I remember being very excited about. He had a really fresh approach to melody and harmony that combined really well with the keyboards.

This new line up developed the music as a team, everything from the lyrics to arrangements and solos were collaborative. We were very focused on creating the best live show we could! Songs were being arranged with a very dynamic set in mind, John Wilde's stage performances and alter- ego's encouraged us all to bring the energy level up a gear!
As the bands reputation grew we started to get gigs with bands like Motorhead, Curved Air, T Rex, Edger Broughton, Stray, Stackridge, Gong, Rare Bird, Magic Muscle, Budgie and Osibisa etc. as well as all the free festivals - most notably 'Watchfield' with Traffic topping the line up ! around this time we were invited to demo 3 songs at the 'Pathway' studio in Islington for EMI.
In 1976 we entered the Melody Maker Rock Contest for the bands 2nd time, this time around the band came first, winning a place on the bill for that years Reading Festival, a week in a 24 track studio, and a residency at the Marquee club in Wardour st, London. During this time we were approached by a company called 'Anastasia' who offered us a management contract after hearing the EMI demo's.
This all seemed like a big leap forward at the time, with the prospect of becoming stable mates with David Bowie, Mark Bolan, Stomu Yamashta and Eric Bell. the company had great contacts at the right Labels. Unfortunately for us this was all going on just as the Punk explosion was taking off.
We were more than happy to put some confrontational energy in to the music and relished the prospect of showcasing the songs we were coming up with to this new audience ! Somehow the new management managed to miss the point with talk of eddie and the hot rods and 'power - pop' scrambling my brain !
They used the studio time we had won in the contest to experiment with our direction, cutting sections out of songs, encouraging us to record new songs with rather bland lyrics and arrangements and generally wasting the opportunity to get some good recordings down ! this all reached crisis point with myself and John petri being kicked out for crimes such as trying to keep control of the Music and do some constructive experimentation in the studio !!
anyway we all agreed the Band should follow the breaks and try to move forward with a new line up more suitable for this approach.
Julian Carter was soon recruited on Guitar and vocals, his background in mainstream pop / rock and strong vocal talents made for a good half way point between Anastasia's aspirations for the band and the remaining band members desire to retain the quality and tightness of the previous line up.
After a lengthy period of searching for a suitable replacement for myself on keyboards it became apparent to every one that Anastasia was not the right choice of management for the band ! So with them gone I was happy to return, we then went on to perform some of our most memorable gigs and festivals as well as writing some great new material, before eventually bowing to the inevitable and going our separate ways.
sadly we never had another chance to record in a decent studio, the only record of this period being the recording of 'Arsony in the UK' made a couple of years later in 1979 featuring Andy Quanta ( Hazel O'conner band, Ice House ) on keyboards which was originally intended as a B side for an aborted 'single' project. Phil Gill remixed this recording in 1992, this being the version that Julian and I overdubbed our original parts over for the new album !
What happened next ?
My appetite for prog was yet to be appeased ! So with this in mind I approached 'The Enid' one of the few bands around who were able to win over the new punk audience without watering down their music !
they soon put me in touch with 'Minotour' who were committed to a UK tour supporting The Enid and were looking for a new keyboard player. The band featured a virtuoso classical guitarist in their line up (Glen Baker).
After a couple of years of working with the band Dave Miller (Minotour's singer and guitarist) and I decided to try something new forming 'Expandis' with John Wilde. This soon proved to be a highly creative formula, taking the dynamic stage performances of Stallion and the musicality of Minotour and combining them with the electronic rhythms and experimental sounds that I had been moving towards having been inspired by bands such as 'Talking Heads','Suicide', DAF and Yellow Magic Orchestra. This new sound led to many interesting collaborations and projects with bands like 'The Astronauts'and'Mandragora' as well as sessions for many solo artists looking for a new sound such as Sam Fox, Sarah Green and Asher Quinn. This all served to kick start my solo career, mainly concentrating on New Age and Chill out albums which I continue to produce to this day !
Mandragora asked me to sit in on keyboards on their 1987 tour with Hawkwind, which turned out to be a long term project ! (Simon Williams and I continue to write and produce together as 'Earthdance')
Steve Demetri went on to form 'Head On' with Andy and Tony Quanta and Steve Kinch ( Stallions original Bass player ) expanding the musical approach into a more 'Jazz rock' format. Steve went on to become one of the UK's top session drummers, most notably touring and recording with Mary Hopkins Sundance band.
Phil Gill joined top prog rockers 'England' before eventually moving on to 'Tich Turners Escalators' along with Steve Demetri on drums who enjoyed some success with the Ray Fenwick produced single 'Diana'.
Tich went on to form a long list of great live bands and continues to perform with his most recent line up - 'The Cool Brynners' whose debut album 'Somewhere down the line' was released in 2001.
Tony Bridger went on to re-form John Petri's old band 'Hippo'. Sadly Tony is no longer with us.
The new album is respectfully dedicated to his memory.
Tony Bridger ( 10 / 4 / 1948 - 7 / 3 / 1997)