The concept for this album was inspired by the Greg Bear book of the same name, which deals with the life of a Japanese pilot abducted during the 2nd world war and forced to live in isolation in a strange artificial environment.
The music was built around a couple of tracks left over from previous projects. A happy accident which led to one of my favourite albums being created.
Another 'journey' album with a positive conclusion. One of the rare opportunities for Dave Miller from Expandis to be featured on guitar.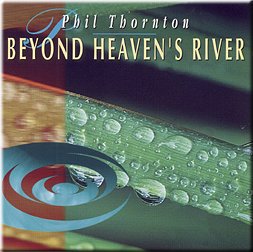 Album Details
Published by PXM
Released by disky in 1995
French version released in 1996
Licensed to The Product Exchange in 1999 (for sound samples and more info go to the links page).
Departure:
part I : Down Stream And Into The River (13:58)
part II : Deja Vu (10:24)
Arrival:
part I : Ocean Crossing (12:17)
part II : Mountain Pass (2:43)
part III : Message From A New Land (9:20)
Composed, performed and produced by Phil Thornton with Simon Williams and Dave Miller on lead guitar.