This album was my first collaboration with Hossam Ramzy, who made possible a style of music I had imagined for many years!
During the recording of this album Hossam was also on a major world tour with 'Page and Plant' (Led Zeppelin). While he was taking a break in Egypt he was able to record some quarter tone accordion and kawala flute for the album, both of which are very distinctive Egyptian sounds. This material ended up being used on tracks 4, 5 and 6.
Track 1 was developed from a 'Mandragora' jam session and is one of my personal favourites.
I had first heard of Hossam back in 1989 through his work on Peter Gabriel's album 'Passion' and track 2 takes a certain amount of its inspiration from the ancient 'Zaar' trance rhythm featured on 'Passion'.
Towards the end of the album the style starts to head more towards modern Egyptian music which in retrospect was a taste of things to come with the next album 'Immortal Egypt'.
More information about Hossam Ramzy is available on the Collaborations page, and from his own web site at, www.hossamramzy.com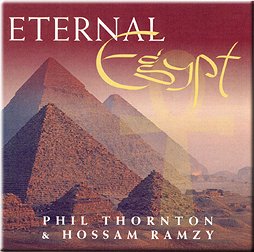 Album Details
Released 1996 by New World Music.
Isis Unveiled (7:46)
The Land Of The Pharaohs - zaar rhythm (9:16)
Through The Ankh - masmoudi rhythm (7:34)
Shimmers In The Sand (11:24)
Desert Rhythm - fallahi rhythm (6:45)
The Cobra's Dance - fallahi rhythm (7:53)
Instrumentation
Phil Thornton - E-bow guitar, lead guitar, vocoder, percussion, didgeridoo, chicken flute and tibetan singing bowls.
Hossam Ramzy - Egyptian percussion (tabla, doholla, duffs, reque, finger cymbals) Electronic percussion (octapad)
Geoff Holroyde - Drum kit loop
Grant Young - Fretless bass
Mike Rogers - Tibetan thighbone
Farouq Mohammed Hassan - Egyptian quarter tone accordion
Brahim (El Kawala) Fathy - Kawala
All music written and arranged by Phil Thornton and Hossam Ramzy.
Recorded at the Expandibubble studio, Sussex, England and at Mirage studio, Cairo, Egypt.
Engineered by Phil Thornton and Khaled Mohasseb.
Produced by Phil Thornton and Hossam Ramzy.