Immortal Egypt is a deeper exploration of the Egyptian dance/Western contemporary theme running through the albums 'Pharaoh' and 'Eternal Egypt'.
During the recording of 'Eternal Egypt' Hossam was able to take an ADAT tape of work in progress to Cairo and overdub 'Kawala' flute and quarter tone accordian. On this album I was keen to use more Egyptian instruments as the eternal egypt session had gone so well. With this in mind Hossam and I spent a week in Cairo during august 1997 recording overdubs using a wide range of traditional and modern egyptian instruments.
Sometimes the musicians improvised over short loops of backing sounds and sometimes learning larger structures. On our return from Cairo we started sifting through this material and re-inventing our ideas and arrangements. During this time more overdubs were recorded in London and Sussex (drums, percussion, morrocan aud, etc) as well as exploring analog synth textures, etc.
Dedications
Many thanks to - Didi for her care and hospitality, Hossam Sobhy (Hossams manager in Egypt) for organizing all the sessions in Cairo, and everyone at home for their help and support.
Hossam Ramzy would like to dedicate his artistic performance on this album to his beloved friend, the late Norhan Atteya.
More information about Hossam Ramzy is available on the Collaborations page, and from his own web site at, www.hossamramzy.com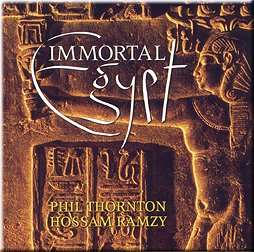 Album Details
Released 1998 by New World Music.
At The Gates Of The Citadel - Nay solo, karatchy and saaidi rhythms.
Cairo Blues - Mizmar and accordian solos.
Last Words By The Temple Wall - Nay, rebaba, naggazy rhythm.
Morocco Dance Aud solo - Moroccan rhythm.
Derwood Green - Mizmar, kawala and didgeridoo, saaidi rhythm.
El-Moulid - Nay and accordian solos.
Praying For Rain - Nay, rebaba,violin and e-bow solos.
Emerald Minarets In A Sea Of Stars - Kawala solo, didgeridoo, malfuf and zaar rhythms.
Sunrise Over Giza - Aud solo, 13, 7 and 6 based rhythms.
Immortal Egypt - Mizmars, didgeridoo, guitars, etc.
Instrumentation
Phil Thornton - Keyboards, synths, vocoder, e-bow and electric guitars, didgeridoo and percussion programming.
Hossam Ramzy - Egyptian percussion, world percussion and drums.
Mohamed Ali - Nay (egyptian bamboo flute).
Ahmed Abdel Fattah - Quarter tone accordian.
Abdalla Helmy - Kawala (bamboo flute used for religious music).
Mahmoud Serour - Violin.
Mamdouh El Gebaly - Aud (egyptian fretless lute).
Chalf Hassan - Morrocan Aud and keyboards.
Mohamed Baher - Mizmar (egyptian oboe \ shawm).
Sayed El Sha-Er - Rebaba (egyptian two string violin).
Shaker Abdullatif - Rebaba.
Mohamed Abo El Khair - Vocals.
Jan Thornton - Analog synthesizer programming \ performance.
Grant Young - Fretless bass and slap bass.
Darren Green - Didgeridoo.
All tracks are composed, arranged and produced by Phil Thornton and Hossam Ramzy.
Recorded at The Expandibubble studio, Sussex, England, by Phil Thornton and Coronette studios, Cairo, Egypt, by Khaled Mohasseb.
Hossam's drums recorded at Azylum Studios, London, England, by Andy Reilly and Paul Stoney.
Mixed at The Expandibubble studio, Sussex England, by Phil Thornton and Hossam Ramzy during February and March 1998.