Recorded live in celebration of the Summer Solstice with musicians who were brought together especially for the occasion.
The theme of the concert was inspired by the Australian Aborigine's 'dreamtime' stories, 'Forever Dream' depicts nature's voice across the world, from the elemental spirits of Scotland to the Australian outback and the deserts of the east.
This was a very special event and my first opportunity to record with a didgeridoo player!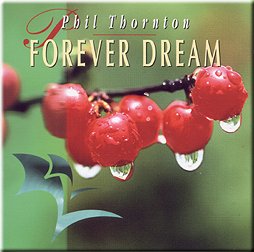 Album Details
Released by Ocean Disque in 1989
Re-released by Disky in 1995
Licensed to The Product Exchange in 1999 (for sound samples and more info go to the links page).
Forever Dream - part 1 (8:45)
Forever Dream - part 2 and 3 (8:21)
Forever Dream - part 4 (4:59)
Terra Nova (12:48)
Oasis (7:10)
Sirocco (4:31)
*Bonus track: Forever Dream - part 1 - studio version (3:46)
Instrumentation
Phil Thornton - Moog Source, Yamaha DX7, Mirage, Prophet 2000, recorder, e-bow guitar, Tom drum computer, Sequential Circuits sixtrack, Korg MS20 / MS50 / SQ10.
Alvin Kramer - Roland D50, JX3p, Casio CZ1000.
Malcolm Levon - Yamaha DX7, Mirage.
Chris Power - Acoustic guitar.
Craig Gibson - Didgeridoo.
Pre-performance programming by Chris Cathles, Alvin, Malcolm and Phil.
Recorded live at the Findhorn Foundation Universal Hall, Scotland
Produced by Dave Poulton
Engineered by Chris Cathles
Mastered at Tape One, London
*Bonus track recorded at 'Sea View' studio, Hastings, Sussex. Produced by Tom Newman.