Positive energy.
My first album to be produced entirely at home. A much more relaxed situation to work in. For the first time I had the ability to experiment with out watching the clock!
In some ways this album is a continuation from the previous release 'From Another Sky '. Certainly the instrumentation can be traced back, however there is an optimistic almost 'tropical' atmosphere here which was for me, the heart of this album's concept.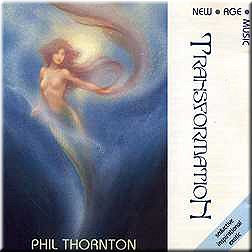 Album Details
Released 1989 by New World Music
Re-released 1999, under exclusive license by Castle Music Limited
Transformation (14:05)
Island Lagoon (11:55)
Casting Pearls (14:58)
Worlds Apart (11:02)
Composed, arranged and performed by Phil Thornton with Ian Barnet on 6 string acoustic guitar.