This album is basically a compilation of ideas which had a Psychedelic rock direction, 'Rainbow Chant' had received a good reaction from Mandragora's record label so I decided to support that track with a selection of suitable compositions that were needing a 'home'.
'Sirocco' is my most recorded track to date first appearing on the 'Flying' album in 1987 followed by a live version on 'Forever Dream' in 1989, a 3" promotional CD was given away with the magazine 'C.D. Review' in support of that release and this version is a revamped mix of the studio recording (produced by Tom Newman) included on that CD!
'The Penny Drops' a track from the 'Forever Dream' set which didn't get on the original L.P. release due to lack of space.
'Xylem' is a new version of the track from the 'Mandragora' album 'Earthdance' played slightly faster with additional keyboard and guitar parts.
'Inside the Crystal Circle' was originally composed as a live track for 'Mandragora' and inspired by the recording of a video on the Isle of Man in a crystal stone circle which does not appear on the map and seemed full of energy! This version was recorded from scratch and is only loosely based on the 'Mandragora' version.
'Dream Catcher' recorded soon after the 'Initiation' sessions with Steven Cragg, this track never quite found a home on any of my didgeridoo based albums due to its strong psychedelic overtones, it seems to fit in here fine though!
'Rainbow Chant' another track which ended up on the shelf due to being too powerful for the New World catalogue! This track has ended up being used in the film 'Glastonbury' as well as a South Bank Show tv special on the artist Anish Kapoor.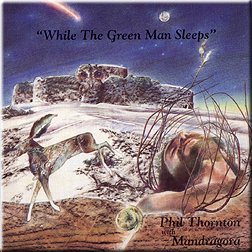 Album Details
Released 1993 by Mystic Stones.
Licensed to The Product Exchange in 1999 (for sound samples and more info go to the links page).
Sirocco (4:16)
The Penny Drops (4:33)
Xylem (7:00)
Inside The Crystal Circle (4:45)
Dream Catcher (6:22)
Rainbow Chant (24:45)
Produced, engineered and programmed by Phil Thornton (except track 1 - produced with Tom Newman) at the Expandibubble studio, Sussex, England
Mastered at Abbey Road studios, London, England
Location Recordings - Injebreck Reservoir and Balla Glass Glen, Isle of Man (birds, stream and chimes). Thanks to Pete and Jill of Talisman Music
Original version of track 3 from 'Earthdance' by Mandragora
Tracks 1 and 2 remixed and re-arranged from live multi-track recording of 'Forever Dream' - Summer Solstice Concert, Universal Hall, Findhorn, Scotland, 1987.