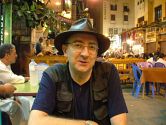 On this album we have been able to combine our shared love of working with creative musicians from around the world with a new vision of Egypt and her Music. Hossam and I have covered a lot of musical ground in the 6 years since we worked together on 'Immortal Egypt'.
While he has been busy searching out and producing new talent from the Middle East and beyond with his "Hossam Ramzy Presents" series for ARC music, I have been busy honing my 'World Music' skills with the albums 'Tibetan Meditation', 'Dreamscapes' and 'Solstice' as well as many projects under the name of 'Earthdance' with Simon Williams utilizing performers and musicians from around the World.
The first time I collaborated with Hossam was on the 1996 album 'Eternal Egypt'. On this occasion we found our common ground as musicians somewhere between
my previous albums and Hossam's unique playing style. We complemented this sound with a couple of session musicians Hossam was able to record in Cairo.
This aspect of the recording worked so well that when we came to record the follow up album "Immortal Egypt" we decided to go to Egypt and hire a studio
and bring in as many session musicians as possible. These recordings were then brought back to England where they were developed into the finished album.
This process worked very well allowing us to develop our new musical language.
On this new album we have taken this technique a stage further. Hossam now has a studio in Cairo so we were able to bring musicians in while the songs were being developed, sometimes bringing people back several times to fill in gaps or create new improvisations as the arrangements came
together. Hossam has a fantastically creative group of musicians, whom he works regularly with; many of them have recorded exceptional solo albums
showcasing their individual styles and presenting the beauty of their respective instruments. This new group of musicians were invaluable in allowing us to take our compositions a stage further. In particular the addition of the Qanun and Magrouna to our sound palette has been a huge inspiration.
More information about Hossam Ramzy is available on the Collaborations page, and from his own web site at, www.hossamramzy.com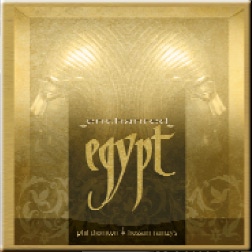 Album Details
Released 2005 by New World Music.
Apostles Of The Interface (5:59)
On The Desert Road To Alexandria (3:36)
Zaiellas (6:03)
Enchanted Egypt 1 (5:42)
Enchanted Egypt 2 (4:07)
Ali Mama (5:08)
From Memphis To Heliopolis (6:11)
Nefertari's Dream (7:31)
At The Temple Of Rameses The Great (4:47)
El Fayadaan (6:52)
On The Transit Of Venus (5:37)

For more detailed track notes, please click here.
Instrumentation
Phil Thornton - E-bow guitar, lead guitar, vocoder, percussion, didgeridoo, chicken flute and tibetan singing bowls.
Hossam Ramzy - Egyptian percussion (tabla, doholla, duffs, reque, finger cymbals) Electronic percussion (octapad)
Professor Maged Serour - Qanun
Shebl Abdalla - Magrouna/Mizmar
Mohamed Naiem - Nay/Kawala
Reda Sobhy - Rebaba
Said Kamal - Violin
Osama El Hendy - Accordion
Hazem Shaheen - Aud
Grant Young - Fretless bass

For more detailed notes about the musicians appearing on this recording, please click here.

For an interview with New World Music about Enchanted Egypt, please click here.
All music written and arranged by Phil Thornton and Hossam Ramzy.